(4 intermediate revisions by one other user not shown)
Line 1:
Line 1:
−

{{belterword|word=Beltalowda}}

+

{{belterword}}

 
 
 

=== Noun ===

 

=== Noun ===

−

'''Beltalowda'''

+

''''''

−

# Belters; the people of the Belt<ref>https://twitter.com/Nfarmerlinguist/status/679501102480396289</ref>

+

# Belters; the people of the Belt<ref>https://twitter.com/Nfarmerlinguist/status/679501102480396289</ref>

 
 
 

== Etymology ==

 

== Etymology ==

Line 12:
Line 12:
 

[[File:TheExpanse-BelterCreole-Beltalowda.jpg|400px|center]]

 

[[File:TheExpanse-BelterCreole-Beltalowda.jpg|400px|center]]

 
 
−

This image was seen on the SyFy website, and [https://twitter.com/ExpanseSyfy/status/835927422738432000 tweeted] by the account used for promoting the show, but its listed etymology is incorrect.<ref>https://twitter.com/Nfarmerlinguist/status/835972517911109632</ref><ref>https://twitter.com/Nfarmerlinguist/status/835972711956410368</ref>

+

This image was seen on the SyFy website, and [https://twitter.com/ExpanseSyfy/status/835927422738432000 tweeted] by the account used for promoting the show, but its listed etymology is incorrect.<ref>https://twitter.com/Nfarmerlinguist/status/835972517911109632</ref><ref>https://twitter.com/Nfarmerlinguist/status/835972711956410368</ref>

−
 
⚫
 
 
 
 

== See also ==

 

== See also ==

 

* [[Belta]]

 

* [[Belta]]

⚫
 
 

* [[lowda]]

 

* [[lowda]]

 
⚫
 
+
 
⚫
 
 
 

== External links ==

 

== External links ==
---
Latest revision as of 00:09, 6 March 2020
This article is about a word in the Belter Creole language.
beltalowda
beltalowda
Belta "Belter" + lowda (plural/collective marker)[3]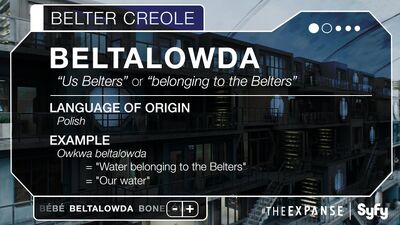 This image was seen on the SyFy website, and tweeted by the account used for promoting the show, but its listed etymology is incorrect (not Polish origin), according to the developer of Belter Creole, Nick Farmer.[4][5]
References
Community content is available under
CC-BY-SA
unless otherwise noted.