Wiki Targeted (Entertainment)
Play Sound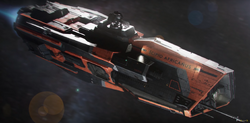 Destroyers are a small military ship type. The only currently known ships of this type are the Morrigan-class Patrol Destroyer built by the Martian Congressional Republic Navy as a cross between a Frigate and a Patrol Torpedo Boat.[1] and the United Nations Navy's unidentified destroyer class.
It is not clear what exactly designates these ships as Destroyer instead of Frigate or Patrol boat, however it should be noted that Destroyers have been shown to be heavily used in policing operations.
Known ships/Classes
[
]
[

]
[

]
Media
[
]
Notes
[
]
Unlike the Books in which Destroyers serve in the same size bracket as real world ocean destroyers being smaller than cruisers, but larger than frigates Destroyers in the TV adaption are smaller lighter craft than frigates, being only larger than Patrol torpedo boats.
References