Wiki Targeted (Entertainment)
Play Sound
A fleet of the Earth-Mars Coalition was deployed to guard entry at the Sol gate into the Ring Space.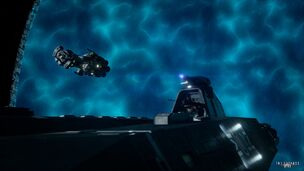 Main article: Ring Blockade Run
When a fleet of eight Belter refugee ships—including the Barbapiccola—attempted to run a blockade of the Ring Space in search of new worlds to colonize, the EMC fleet ordered the Belters to turn course immediately. When the UNN and MCRN ships fired upon the Belters with their railguns, knocking two off course from the gate. Another Belter ship was hit, but entered the Ring Space uncontrolled. The EMC fleet turned and gave chase to the Belters into the Ring Space, preventing all but three of the ships from crossing through the Rings after they refused to stop.[1]
The fleet would remain in position at the gate guarding entry letting only vessels with only authorized ships such as the OPAS Tynan and Rocinante.
Main article: Battle for the Sol Gate
As a result of Free Navy attacks on the inner planets, a bulk of the EMC fleet withdrew, leaving only three vessels, the UNN Tripoli, UNN Montenegro, and MCRN Sagarmatha to defend. Under normal circumstances, this force was sufficient, but the Free Navy used micro-asteroids to damage the vessels while attacking the vessels using stolen Martian vessels. The ultimate factor in their destruction were torpedoes launched from Medina Station, which had defected. Ultimately, the fleet in its entirety was destroyed. The Free Navy and the rogue MCR faction ultimately gained control.[2]
The fleet has consisted of at least 5 ships over the span of its deployment:
References
Community content is available under
CC-BY-SA
unless otherwise noted.