Wiki Targeted (Entertainment)
Play Sound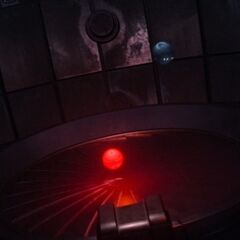 Fuel pellets are the power fuel used for the fusion reactors of almost every spacecraft, propelling the Epstein Drive.
Fuel pellets bear a striking resemblence to the fuel pellets used in Inertial-Confinement Fusion reactors (ICF). They are most likely made out of isotopes of hydrogen and helium[1], and shot at by an array of high-energy lasers within the reactor chamber.[2] The lasers heat up the pellet to enormous temperatures, ultimately causing it to trigger a nuclear fusion reaction in the pellet.[2]
The pellet is fused entirely and then purposed as either a power source for the ship, or propellant for the ship's Epstein Drive.[2] However, the fusion process creates a large amount of infrared and other radiation.[3][4]
References
Community content is available under
CC-BY-SA
unless otherwise noted.