Cobra Kai Season 4 - The Loop
Play Sound
Leviathan Falls is the ninth novel in The Expanse series and marks the end of the book series[1] and was released on November 30, 2021.[2] It was originally projected to be released on November 16, 2021, but production delays with the publisher postponed the release to November 30, 2021.[3] [4]
Its title and cover were revealed by publisher, Orbit Books, on September 16, 2020.[5]
Blurb
The Laconian Empire has fallen, setting the thirteen hundred solar systems free from the rule of Winston Duarte. But the ancient enemy that killed the gate builders is awake, and the war against our universe has begun again.
In the dead system of Adro, Elvi Okoye leads a desperate scientific mission to understand what the gate builders were and what destroyed them, even if it means compromising herself and the half-alien children who bear the weight of her investigation. Through the wide-flung systems of humanity, Colonel Aliana Tanaka hunts for Duarte's missing daughter. . . and the shattered emperor himself. And on the Rocinante, James Holden and his crew struggle to build a future for humanity out of the shards and ruins of all that has come before.
As nearly unimaginable forces prepare to annihilate all human life, Holden and a group of unlikely allies discover a last, desperate chance to unite all of humanity, with the promise of a vast galactic civilization free from wars, factions, lies, and secrets if they win.
But the price of victory may be worse than the cost of defeat.[2]
Plot
Viewpoint characters
Editions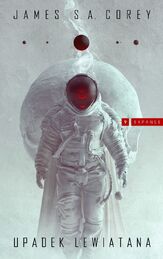 Hardcover
The book was first released as a hardcover by orbit on Novemeber 30, 2021,
Paperback
The book was released as a trade paperback in the U.K. on December 2, 2021.
Other Languages
Polish: Upadek Lewiatana (2022)
German: Leviathan fällt (2022)
Notes
In an interview with Polygon, Daniel Abraham and Ty Franck mentioned that they knew Leviathan Falls' last line — Naomi Nagata musing, "The stars are still there. We'll find our own way back to them" — since they were writing the second book, Caliban's War.[6]
Trivia
Leviathan is a Biblical allusion to a large sea monster referenced in the Tanakh, or the Old Testament.[7]
See also
References
↑   Tweet from James S.A. Corey (May, 11 2018): Book nine is the last book of #TheExpanse, and book eight comes out this year, so the end is in sight.
↑   Tweet from Orbit Books (October 6, 2021): Announcement of book 9's delay.
↑   The final book in #TheExpanse series by @JamesSACorey is LEVIATHAN FALLS! Coming 2021.
Watch the authors answer questions from the audience during the live reveal: <URL not allowed>
Art by Daniel Dociu; design by @Planetpinto
External links
News