Obi-Wan Finale - The Loop
Play Sound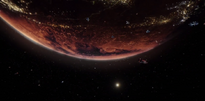 The Martian Congressional Republic Navy (MCRN) is the naval force of the Martian Congressional Republic (MCR), and the most important branch of its military.
Though smaller in size than the United Nations Navy (UNN), it is more technologically advanced and generally considered on par with the UNN.
Ship construction
[
]
Most smaller Martian ships are constructed in the same basic configuration, floor by floor from the drive cone and reactors. First is the engineering deck, then specialty compartments, then the galley, followed by crew cabins. The next two decks are medical bays and interrogation chambers. The storage deck and airlocks follow, with the command deck and pilot (or the bridge in larger ships) at the "top". Under thrust, Martian ships are essentially skyscrapers, with elevators and ladders connecting the various decks.
MCRN ships generally cruise separately from one another, or in pairs for smaller ships. The third-generation battleships are well armed enough to be considered fleets unto themselves. The pride of the MCRN is centered around the Donnager-class battleships. Donnager-class battleships measure nearly 500 meters long, or the length of a 130-story office building, and bristle with torpedo tubes, point defense cannons, and massive 90 meter long railguns. They serve as flagships for MCRN fleets, and are large enough to carry small Escort Frigates and Patrol Destroyers within them.[1]
Second-generation battleships still have a place in the MCRN, serving alongside fast-attack cruisers, destroyers and frigates capable of patrolling the entire Sol system. Mars also has advanced stealth technology, though battleships and larger ships typically avoid this in favor of the intimidating effect of an aggressive battle posture. Larger ships are basically mobile bases, such as the Donnager-class, carrying marines and military interrogators aided by pharmaceuticals.
By virtue of superior technology, fiercer armament, and superior-trained crew, the battle fleets of Mars are unmatched. Martians never cease to remind others of this, and make their military pride known at any and every opportunity.[2]
Rank structure
[
]
The Martian Congressional Republic Navy is led by a four-star Admiral.
Shipyards and facilities
[
]
Fleets
[
]
The Martian Congressional Republic Navy is divided into three main fleets. Additional fleets operate as a part of the main ones:
Known ships/Platforms
[
]
Ship designators/hull numbers
[
]
Every class of ship in the MCRN has a three alpha character prefix before its ship number. Each letter represents a specific characteristic of the ship, the first letter designates the ship's propulsion method, the second letter designates its role, and the third letter designates its type of ship. For example the MCRN Tachi was designated ECF-270, which indicates an Epstein Drive (E) Combatant (C}, Frigate (F ).[7]
Ship-classes
[
]
History
[
]
Worn rank insignias
[
]
Note that the insignias worn on-screen are inconsistent with different ranks appearing to wear the same insignia and several officers lacking insignias entirely.
See also
[
]
Gallery
[
]
References