This page is about the  TV ship. For the books incarnation, see Rocinante (Books).
The Rocinante ("Roci") is a Corvette-class light frigate with multiple roles, such as torpedo bomber and boarding party insertion.
Originally commissioned as the MCRN Tachi  (ECF 270), the ship was stationed onboard the MCRN battleship Donnager. It was renamed by James Holden after he and his crew used it to escape from the Donnager.
Description
The ship's construction is like a narrow building, layered floor by floor from the drive cone and reactor up to the engineering deck, to the machine shop, then the galley and crew cabins and medical bays, storage deck containing the crew airlock, then on up to the command deck and pilot's farthest forward. Under thrust, g-forces then provide a "down" amenable to human orientation.
Her normal crew complement was over a dozen navy personnel and officers, and on many missions she'd also carry six marines.
In addition to the ship's weapon systems, it carries three Reconnaissance Drones, named "Peart", "Lee", and "Lifeson".[2]
Crew
Ordinary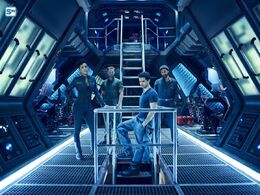 Temporary
History
Media
Trivia
The ships name is a reference to Don Quixote's[3] horse. "Rocín"[4] is Spanish for "work horse" or "pack horse", and "ante" means "before" or "previously". Thus, "Rocinante" means "previously a work horse".[5]
Alternative source for the name comes from the song Cygnus X-1 Book 1 The Voyage by the band Rush on their 1977 release, A Farewell to Kings. "On my ship, the 'Rocinante', Wheeling through the galaxies, Headed for the heart of Cygnus, Headlong into mystery."
Tachi is a Japanese word and may have the following meaning in a military context. (1) Tachi (太刀): A type of sword predating the Katana. A Tachi is slender, narrow and light. (2) Tachi (立ち) literally "to rise", "rising up to face battle". In the TV show the crews uniforms show a Chinese "motto" or alternative name for the ships. For the Tachi it is 首次作战 - "first (time) into battle". The Chinese motto aligns best with meaning (2).
Tough SF estimates that the Rocinante has a dry mass of around 250 mtric tons, and a total Delta-V of around 4000 km/s.[6]
The three recon drones carried on the ship, "Peart", "Lee", and "Lifeson", are named using the surnames of the Canadian band Rush.[7]
See also
References
External Links
Community content is available under
CC-BY-SA
unless otherwise noted.