Jurassic World: Dominion Dominates Fandom Wikis - The Loop
Play Sound
Were you looking for info on the book series called The Expanse?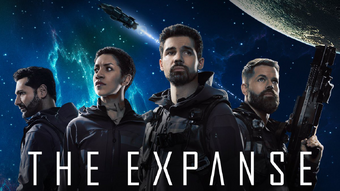 The Expanse is a TV series based on the book series of the same name by Daniel Abraham and Ty Franck (under the pseudonym James S.A. Corey), who also serve among the show's producers and writers. The series is produced by Alcon Entertainment and premiered online through several VOD services on November 23, 2015[1], and premiered on Syfy in the United States, and Space in Canada[2] on December 14, and 15, 2015. The series ran for 3 season under Syfy and then was picked up by Amazon starting with Season 4 on May 26, 2018.[3] It was released on Amazon's Prime Video service and was marketed as an "Amazon Original" series.[4] The fourth season was released on December 13, 2019,[5] and consisted of ten episodes, and, unlike previous seasons, was released all at once.[6]
Sean Daniel and Jason Brown of the Sean Daniel Company developed the original pitch with Mark Fergus and Hawk Ostby. Naren Shankar (mostly known for similar work on CSI) is the show runner. The project has been described by some media outlets as "Game of Thrones in space."[7][8]
Seasons
#
Episode
count
Network
Premiere
date
Finale
date
Season 1
10

Syfy

Nov 23, 2015
Feb 2, 2016
Season 2
13

Syfy

Feb 1, 2017
Apr 19, 2017
Season 3
13

Syfy

Apr 11, 2018
Jun 27, 2018
Season 4
10
Prime
Video
Dec 13, 2019
Dec 13, 2019†
Season 5
10
Prime
Video
Dec 16, 2020
Feb 3, 2021
Season 6
6
Prime
Video
Dec 10, 2021
Jan 14, 2022
† Full season released on premiere date.
Trailer
The first official trailer for the show was premiered at the Television Critics Association's winter press tour on January 15, 2015.
Synopsis
A thriller set two hundred years in the future, The Expanse follows the case of a missing young woman who brings a hardened detective and a rogue ship's captain together in a race across the solar system to expose the greatest conspiracy in human history.
Alternate synopsis
The crew of the Canterbury discover a derelict vessel which holds a secret that may be devastating to human existence.
Episodes
Season 1
No. ovr.
No.
Image
Title
Writer(s)
Director(s)
Airdate

1

1

"Dulcinea"
Mark Fergus & Hawk Ostby
Terry McDonough
11/23/2015
In the asteroid belt near Saturn, James Holden and the crew of the ice freighter Canterbury investigate a distress call from a mysterious derelict ship, the Scopuli. On Ceres Station, Detective Miller begins an off-the-books investigation of a missing heiress, Julie Mao.

2

2

"The Big Empty"
Mark Fergus & Hawk Ostby
Terry McDonough
12/15/2015
Holden and crew fight for survival in a badly damaged shuttle. Miller uncovers clues about Julie Mao, as water rationing hits Ceres Station. On Earth, UN Deputy Undersecretary Chrisjen Avasarala interrogates a Belter terrorist.

3

3

"Remember the Cant"
Robin Veith
Jeff Woolnough
12/15/2015 (online)
12/22/2015 (broadcast)
Holden and crew are taken prisoner aboard the Donnager, the flagship of the Martian Congressional Republic Navy, and begin to turn against each another. While contending with riots on Ceres, Miller connects Julie to the mysterious derelict ship, the Scopuli. Avasarala engages in a nasty game of politics with an old friend.

4

4

"CQB"
Naren Shankar
Jeff Woolnough
12/15/2015 (online)
12/29/2015 (broadcast)
Holden and crew are caught in the middle of a desperate battle, as mysterious warships attack and board the Donnager. As he pursues Julie Mao, Miller's partner, Havelock, goes missing.

5

5

"Back to the Butcher"
Dan Nowak
Robert Lieberman
1/5/2016
Holden and crew make a deal with an unlikely ally on Tycho Station. Along with his conspiracy theories about Julie Mao, Miller's obsession with the missing girl intensifies.

6

6

"Rock Bottom"
Jason Ning
Robert Lieberman
1/12/2016
Miller discovers revealing information on a hidden data cube. Holden and crew arrive at Tycho Station and are surprised by their host's hidden agenda.

7

7

"Windmills"
Daniel Abraham & Ty Franck
Bill Johnson
1/19/2016
Holden and crew realize they're not alone on the Rocinante and find themselves up against a Martian military blockade. Believing all is lost, Miller finds a new reason to forge ahead. Avasarala visits Holden's family in Montana.

8

8

"Salvage"
Robin Veith
Bill Johnson
1/26/2016
The crew of the Rocinante discovers a derelict vessel holding a secret that may destroy humankind. Holden and crew are led to Eros, where they finally cross paths with Miller, only to make a horrifying discovery. On Earth, Avasarala receives devastating news.

9

9

"Critical Mass"
Robin Veith & Dan Nowak & Naren Shankar
Terry McDonough
2/2/2016
A flashback to Julie's origin story reveals her trajectory. Holden and Miller finally meet and team up to get to the bottom of the strange emergency situation happening on Eros. As the true horror of the events on Eros is revealed, an ailing Holden and Miller must overcome incredible odds if they hope to live to fight another day.

10

10

"Leviathan Wakes"
Mark Fergus & Hawk Ostby
Terry McDonough
2/2/2016
Miller, Holden and his crew fight their way to the Rocinante to escape Eros. On Earth, Avasarala fears for the stability of Earth's government and her family's safety.
Season 2
Season 3
Season 4
Season 5
Overall
No.
Image
Title
Writer(s)
Director(s)
Airdate

47

1

"Exodus"
Naren Shankar
Breck Eisner [21]
12/16/2020
Holden tries to convince Fred Johnson to destroy the last sample of protomolecule. Naomi gets an important lead to her son. On Luna, Avasarala begins to hunt for Marco Inaros.

48

2

"Churn"
Daniel Abraham & Ty Franck
Breck Eisner
12/16/2020
Holden and Fred deal with infiltrators on Tycho. Drummer's past comes back to haunt her. Amos returns to Baltimore. Alex and Bobbie's investigation on Mars leads to rogue soldiers.

49

3

"Mother"
Dan Nowak
Thomas Jane[22]
12/16/2020
Naomi comes face to face with Filip. Holden and Fred turn the tables. Avasarala closes in on Marco's plot.

50

4

"Gaugamela"
Dan Nowak
Nick Gomez
12/23/2020
Marco's grand plan shocks Earth, Mars, and the Belt.

51

5

"Down and Out"
Matthew Rasmussen
Jeff Woolnough
12/30/2020
Amos and Clarissa are trapped in a collapsed building. Naomi contends with her old family. Holden assembles a new crew on the Roci. Alex and Bobbie make a dangerous discovery in the Belt.

52

6

"Tribes"
Hallie Lambert
Jeff Woolnough
1/6/2021
Holden and the Roci go on the hunt. Amos and Clarissa seek shelter on a devastated Earth. Bobbie and Alex fight a desperate battle. Marco makes Drummer an offer she can't refuse. Avasarala returns to a position of power.

53

7

"Oyedeng"
Dan Nowak
Marisol Adler
1/13/2021
Naomi makes a desperate attempt to save her son from Marco. On the Roci, Holden battles for the last sample of protomolecule.

54

8

"Hard Vacuum"
Dan Nowak
Marisol Adler
1/20/2021
Amos returns to Baltimore with Clarissa. On Luna, Avasarala's alliances begin to shift. Alone and adrift, Naomi becomes a deadly lure.

55

9

"Winnipesaukee"
Daniel Abraham, Ty Franck,
& Naren Shankar
Breck Eisner
1/27/2021
Amos, Clarissa, and a gang of thieves work together to leave Earth. Avasarala tries to head off a brutal military strike. Drummer's new family bonds are tested as Naomi's life hangs in the balance.

56

10

"Nemesis Games"
Daniel Abraham, Ty Franck, &
Naren Shankar[23]
Breck Eisner [24]
2/3/2021
Holden and the Roci face off against Marco's forces and Drummer, while Alex and Bobbie attempt a dangerous rescue of Naomi, and the balance of power in the Solar System shifts.
Season 6
Overall
No.
Image
Title
Writer(s)
Director(s)
Airdate

57

1

"Strange Dogs"
Naren Shankar
Breck Eisner
12/10/2021
The tensions of war threaten to pull the Rocinante crew apart when they make a startling discovery on an asteroid. Avasarala and Bobbie contend with the devastation on Earth as Marco's rocks continue to rain down. In the Belt and on the run, Drummer and her family must make a heartbreaking decision. On Ceres, Marco and Filip's struggles turn inward.

58

2

"Azure Dragon"
Daniel Abraham
Ty Franck
Jeff Woolnough
12/17/2021
With an unexpected passenger aboard the Rocinante, Holden and crew undertake a dangerous mission that could shift the balance of power in the war. Drummer decides to make an uneasy alliance. Filip wrestles with his guilt.

59

3

"Force Projection"
Dan Nowak

Jeff Woolnough

12/24/2021
Avasarala, with the Combined Fleet of Earth and Mars, takes the war to Marco. Filip and Marco's relationship is tested. The war becomes more perilous and personal for Holden and Naomi when the Rocinante is suddenly forced into a battle.

60

4

"Redoubt"

Dan Nowak

Anya Adams
12/31/2021
Holden finds himself at odds with his crew when a controversial decision is uncovered. On Ceres, Avasarala struggles to contain an escalating humanitarian crisis. Drummer's growing faction stage a daring raid with dire stakes. Filip, demoted to repair skiff duty, makes an unexpected discovery.

61

5

"Why We Fight"
Daniel Abraham
Ty Franck

Anya Adams

1/7/2022
Paths converge on Ceres when Drummer and her fleet arrive to aid the relief effort. Holden tries to convince Avasarala to release crucial information that might avert catastrophe, but she has her own request of him. As Amos and Bobbie get a little R&R at the station, Naomi has a difficult and long-awaited reunion.

62

6

"Babylon's Ashes"
Daniel Abraham, Ty Franck, Naren Shankar

Breck Eisner

1/13/2022
Inners and Belters fight side by side with the crew of the Rocinante in a last, massive, desperate battle with Marco and his Free Navy, with the fate of the Solar System, the Ring Gates, and of all humanity hanging in the balance.
Legend
Webisodes
No.
Image
Title
Writer(s)
Director(s)
Airdate

1

"Ankawala"
Julianna Damewood
Lewin Webb
12/10/2021
On the Tynan, Michio informs Josep that Camina has kept many video messages from Naomi on her terminal and no messages from their family, proving that she cares more about Naomi than the rest of them. Josep tells Michio that every one of them is torn and comforts her in light of their imminent separation. In her cabin, Camina deletes Naomi's messages.

2

"Zenobia"
Julianna Damewood
Lewin Webb
12/17/21
On the UNN Zenobia, Secretary-General Chrisjen Avasarala consults with MCRN Admiral Preston on the continuation of the conflict prior to the Ceres Offensive. Afterwards, Gareth reports on the worsening humanitarian and environmental situation on Earth and voices his lack of empathy towards Belters, to the dismay of Chrisjen. Inside her quarters and awaiting Admiral Sidiqi, she tries to rest in the dark but is interrupted by her granddaughter Kiki sending her a video about her small garden. She is delighted and responds with a video of her own, before she asks her doctor to keep her current medical state a secret and again embarks to meet Sidiqi.

3

"Win or Lose"
Wes Chatham & Glenton Richards
Lewin Webb
12/24/2021
On the Rocinante, Amos and Bobbie are cleaning up the cargo bay of the ship and storing away equipment. Tired of the work, Bobbie challenges Amos to a bet, the person to be wrestled to the ground first will have to continue the work on their own, and he accepts. After a brief fight, Bobbie gets a hold of Amos and tries to choke him to unconsciousness, but before she can, he activates an alarm to distract and wrestle Bobbie to the ground. Amos leaves victorious, and a laughing Bobbie laying on the floor remains in the bay.

4

"Night Watch"
Glenton Richards
Lewin Webb
12/31/2021
Clarissa is left in charge of night watch on the Rocinante. Though she is eager to do her best, she finds there is little that needs to be done and ends up eating alone in the galley, where she hears on the news that her disgraced father, Jules-Pierre Mao, has died in his prison cell. In a fit of rage, Clarissa activates her implant and crushes her terminal, before blacking out. She comes to later, having trashed the entire galley. She has the Rocinante record an entry for her journal, and wonders aloud why she is so angry, as she knew she would never see her father again. She starts to cry, wishing her father had been a better man and parent, and that she hadn't left him. She then gets up and begins cleaning up the mess she has made.

5

"Remember the Cant"
Julianna Damewood & Glenton Richards
Lewin Webb
1/7/2022
After running into an old graffiti of his younger self titled "Remember the Cant", Holden remembers his first meeting with Captain McDowell in a bar on Ceres. Ten years earlier, McDowell struggles to integrate as an Earther among Belters, when he overhears Holden telling a funny story to a table full of Belter friends. Seeing his popularity despite being from Earth, and sensing he has prior experience in the navy, McDowell offers Holden a position on the Canterbury. Holden initially refuses, but is convinced when McDowell explains he will have good benefits and minimal responsibility. The Belters pour McDowell a drink, and he toasts with Holden and his friends.
Cast
Main
Recurring
Production
Development
Season 1
Season 1 premiered online on November 23, 2015[1] and on SyFy and Space on December 14, 2015, and consists of 10 episodes of one hour each.
Season 2
Season 2 premiered with a double episode on February 1, 2017[34] and consists of 13 episodes total.[35]
Season 3
Season 3 was announced to premiere on April 11, 2018[36][37][38] and consist of 13 episodes[39] like season 2. Season 3 was the last season broadcast in the US on Syfy channel.[40]
Season 4
Season 4 was announced to premiere on December 13, 2019[5] and consist of 10 episodes.[6][41][42]This follows after the cancellation by Syfy, and Amazon Studios acquiring The Expanse for season 4.[43][44]
Season 5
Season 5 was announced to premiere on December 16, 2020[45] and consists of 10 episodes.[46]
Season 6
Season 6 was announced to premiere on December 10, 2021 and consists of 6 episodes.[47] It will be the final season of the show.[48]
Comics
The Expanse Origins
A comic book prequel miniseries to the television show, titled The Expanse Origins, was released in 2017.
The Expanse (comics 2021)
A four-part comic book by Boom! set between season 4 and 5 simply titled The Expanse, which was released primarily in 2021.
Media
Banners
Twitter banners
Logos
Season 4 posters
Season 6 trailers
Season 5 trailers
Season 4 trailers
Transition to Amazon Prime Video
Season 3 trailers
Season 2 trailers
Season 1 trailers
Syfy - The Expanse
Why you should watch it
Interviews with authors of the books
Fan videos
References
↑ Space.ca - The Expanse Is Coming To Space, And Here's Why You Should Be Excited August 27, 2015
↑   deadline.com: The Expanse Picked Up By Amazon For Season 4
↑ ' - Amazon Originals at New York Comic-Con 2019 by by Alexandria Ingham Oct 1, 2019
↑ 5.0 5.1 @Casanvar: Saddle up ya'll...time to rock the world again with the new season 4 dropping like gravity December 13th! 2:35 PM - 20 Jul 2019
↑ 6.0 6.1 IGN - Amazon's The Expanse: Season 4 Release Date Announcement - Comic Con 2019 By David Griffin; Updated: 20 Jul 2019 1:50 pm; Posted: 20 Jul 2019 1:50 pm
↑ CNET - 'The Expanse' on SyFy is like 'Game of Thrones' in space By [https://www.cnet.com/profiles/anthonydomanico/ Anthony Domanico January 15, 2015 2:17 PM PST
↑ The Wrap - 'The Expanse' Review: Syfy Series Tries to Be 'Game of Thrones' in Space by Amber Dowling December 14, 2015 @ 12:04 PM
↑

The first four episodes were released earlier to reviewers of the TV show.

↑ TV listings Originally showed "Thomas Prince" which turned out to obviously be wrong
↑  Internet Movie Database Ep403
↑ Hollywood Reporter - Thomas Jane to Star in Syfy's 'The Expanse' (Exclusive)
↑ Blastr - The Expanse showrunner Naren Shankar on Episode 4's big battles, Belter extreme sports, and Shed's head Adam Swiderski Wed, Dec 30, 2015 3:35pm
↑ 29.0 29.1 Variety - Syfy Returns to its Roots with 'The Expanse,' 'Childhood's End' Laura Prudom, DECEMBER 14, 2015 12:53PM PT
↑ 30.0 30.1 Variety - 'Iron Man' Writers Enter Sci-Fi Mystery TV Project for Alcon, 'The Expanse' Jon Weisman SEPTEMBER 4, 2013 09:58AM PT
↑ Space.com - Syfy's 'The Expanse' Explores a Complicated Future on Far-Flung Worlds By Sarah Lewin, October 16, 2015 01:30pm ET
↑ 32.0 32.1 Space.com - Turning a Sci-Fi Series into a TV Epic: Q&A with 'The Expanse' Authors By Sarah Lewin; December 23, 2015 12:00pm ET
↑ 33.0 33.1 33.2 Daniel Abraham - Long-promised news on the TV Show 07.15.14
↑ @ExpanseSyfy: "Suit up, we're going on a hunt." Strap in for #TheExpanse double episode premiere, February 1. 8:21 AM - 23 Dec 2016
↑ Variety - 'The Expanse' Gets Season 2 on Syfy by Whitney Friedlander December 31, 2015 10:30AM PT
↑ Deadline Hollywood - 'The Expanse' Sets Season 3 Premiere Date; Unveils Trailer by Denise Petski February 23, 2018 1:00pm
↑ Deadline Hollywood - 'The Expanse' Renewed For Season 3 By Syfy by Nellie Andreeva March 16, 2017 2:00pm
↑ Deadline Hollywood - 'The Expanse' To End On Syfy With Season 3, Will Be Shopped Elsewhere By Alcon by Nellie Andreeva May 10, 2018 9:00pm
↑ @ExpanseOnPrime: Welcome to Ilus. 1:45 PM - 20 Jul 2019
↑ Deadline Hollywood - 'The Expanse' Season 4: Premiere Date, Teaser Trailer & First Footage Unveiled By Amazon – Comic-Con by Denise Petski July 20, 2019 1:50pm
↑ Deadline Hollywood - 'The Expanse' Picked Up By Amazon For Season 4 After Syfy Cancellation by Nellie Andreeva May 25, 2018 9:46pm
↑ The Hollywood Reporter - 'The Expanse' Revived for Season 4 at Amazon by Lesley Goldberg; May 21, 2018 3:00pm PT
↑ Deadline Hollywood - 'The Expanse' Season 5 Trailer & Premiere Date On Amazon Prime – New York Comic Con by Anthony D'Alessandro October 8, 2020 2:20pm
↑ Deadline Hollywood - 'The Expanse'Renewed For Sixth & Final Season By Amazon Ahead Of Season 5 Premiere by Nellie Andreeva November 24, 2020 9:00am
See also
External links
Old Syfy stuff
Online viewing purchase

Outdated...
Fan news sites
Overview
News