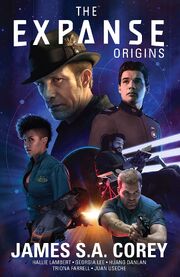 The Expanse Origins is a digital comic miniseries and soft-cover graphic novel[1] that serves as a prequel to The Expanse television series. Based on story by James S. A. Corey, it is written by Hallie Lambert and Georgia Lee, with art by Huang Danlan, Triona Farrell, and Juan Useche. The comic miniseries was initially only released online in digital form.[1]
Based on the bestselling books and tying into the hit television series, THE EXPANSE ORIGINS reveals the untold origins of the crew members of The Rocinante. As interplanetary tensions reach an all-time high, the crew of the Rocinante finds themselves at the center of a conflict that threatens to destroy all of human civilization. But before they were heroes, each member of the crew faced moments that would come to define them and brought them one step closer to the ship they now call home. Featuring a story by author James S.A. Corey that explores the past of each character and what set them off on the winding roads that led to The Rocinante, this series is a must read for fans of the books and show alike.
Graphic novel
Edit
Details:
Series Cover art
Triona Farrell is credited with coloring for #1 & #2
Juan Useche is credited with coloring for #3 & #4
The four separate graphic novels with the Canterbury survivors were combined as chapters with a fifth chapter covering Josephus Miller in a printed volume of the Origins comics.
References
↑ 1.0 1.1 1.2 1.3 Attack this 10-page peek at Boom!'s The Expanse Origins graphic novel by Jeff Spry Feb 3, 2018
External links
Edit
News
Old preorder
Community content is available under
CC-BY-SA
unless otherwise noted.